News
Find the most up-to-date information about Judge Terri Jamison! View endorsements and recommendations! Read news articles and press releases! Hear interviews to learn about Judge Jamison's philosophy as a jurist!
Saturday, October 3, 2020 9:45 AM
Endorsed!
Endorsements are still coming in! Judge Jamison is the choice of OCSEA !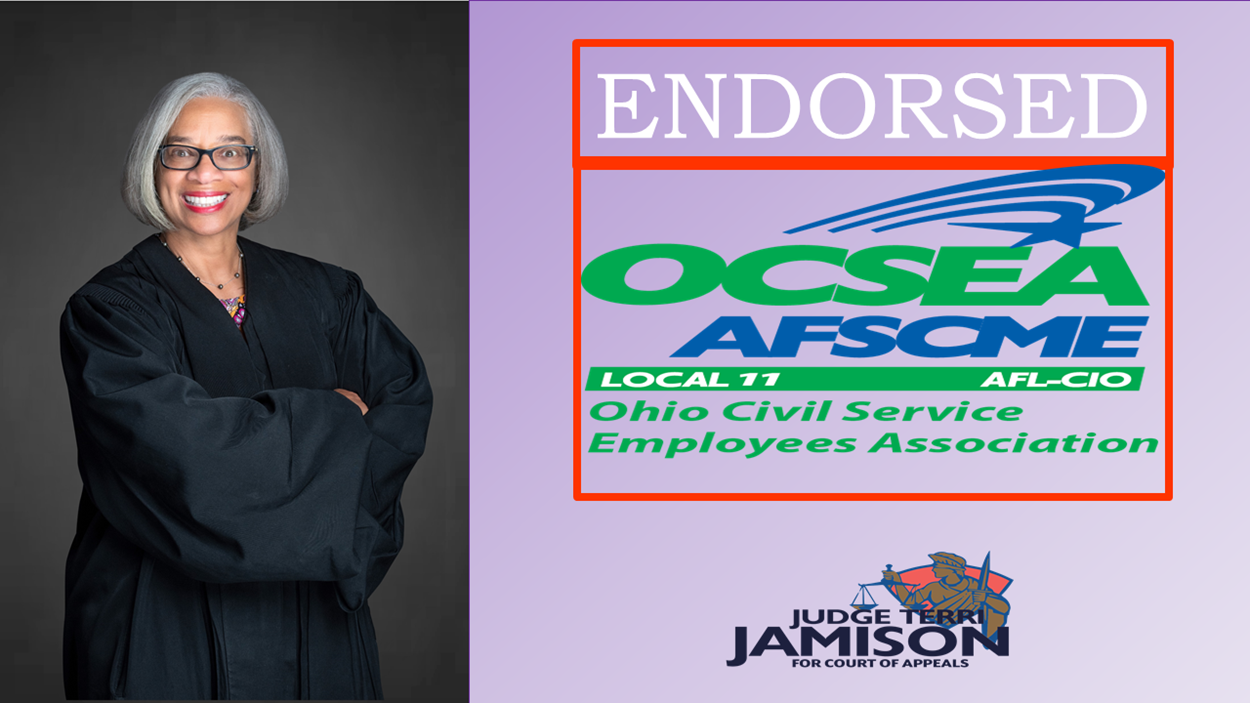 She should be your choice too!
---
Friday, October 2, 2020 3:01 PM
Highly Recommended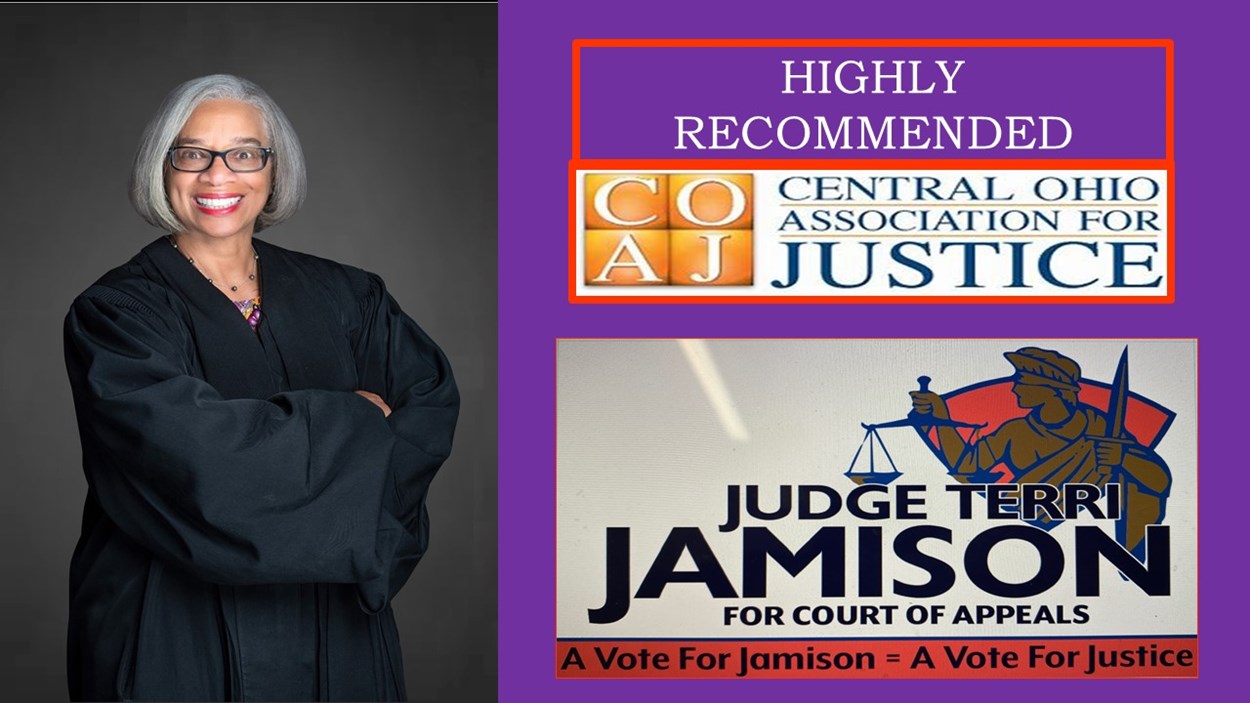 Judge Terri Jamison is Highly Recommended bythe Central Ohio Association of Justice, a group of trial lawyers whose opinion is valued. Having been a trial lawyer, it is not surprising that the association gave her the highest recommendation.
---
Friday, September 4, 2020 8:35 PM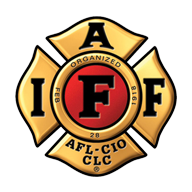 ---
Friday, August 7, 2020 12:30 PM
Judicial Candidates give insights into their candidacy! Hear how Judge Jennifer Brunner, Judge John O'Donnell, Michael Mentel and myself have served the community in the past and how we hope to impact the community if elected this year!
---
Friday, July 24, 2020 12:01 PM
On July 24, 2020, Judge Jamison joined She Should Run a non-partisan, non-profit organization in Washington, D.C. to be interviewed by local business owner Jeni Britton Bauer, founder of Jeni's Splendid Ice Cream, and her fellow elected official Columbus City Auditor Megan Kilgore. The interview was to speak frankly about the purpose that pulled them out of their jobs or careers into a life of public service. They speak boldly about campaign challenges, obstacles and how to overcome obstacles, and the reward of being public servants here in Columbus and Franklin County.
---
Thursday, February 20, 2020 12:00 AM
Judge Jamison was one of several community leaders that were selected to join the Franklin University Advisory Board for the Global Center for Healthcare Education. She joins the likes of Charleta Tavares, former Senator and Chief Executive Officer of Primary One Healthcare. Chosen by Dr. Chenelle Jones, Program Chair of the Public Safety programs within the College of Health and Public Administration. Judge Jamison and Dr. Jones have participated in many community panels throughout Ohio. They were panelists for Dr. Kimberly Crenshaw at Walsh University on the disparate treatment of women of color in the criminal justice system. Judge Jamison is a Franklin University alum with a Bachelor of Science degree in Business Administration, minoring in Human Resources Management.
---
Friday, December 6, 2019 12:51 AM
Judge Jamison was one of four female elected officials who participated at the John Glenn College of Public Affairs | Ready to Run Campaign Training. The panelists discussed the positives and the pitfalls of being women running for office.
---
Tuesday, December 3, 2019 12:00 AM
Judge Terri Jamison was the Juvenile Court Judge featured in the documentary PUSHOUT: The Criminalization of Black Girls in Schools which premiered at Gateway. To introduce the film, Judge Jamison relayed her own experiences during desegregation in elementary school in Welch, WV.
---
Wednesday, November 6, 2019 6:28 AM
Judge Jamison collaborates with CSEA in COMPASS Program. Unemployed Men and Women have the opportunity to link with community resources for job training, education, industry certifications and ultimately sustained employment. The Program was implemented in 2014 and continues on the fourth Thursday afternoon of each month.
---
Wednesday, September 11, 2019 12:00 AM
Judge Terri Jamison was invited to join Capital University Law School's Board of Counselors.
---
Monday, July 15, 2019 4:45 PM
I was very honored to be featured by Ohio Women In Government as Member of the Month in July of 2019.
Hometown: Welch, WV
Place of Work: Franklin County Court of Common Pleas - Juvenile Branch of Domestic Relations
Tenure at Current Place of Work: 6.5 years
OWIG Involvement: member for 2.5 years